Spot

Satellite Messenger – Personal Tracker
Spot Device is Satellite GPS tracking device. You can operate SPOT in a economic price and also, you can check your location information and transmit.
GPS Accuracy is 5m.
When you push SOS button in emergency situation, automatically user's location information transmitted to GEOS.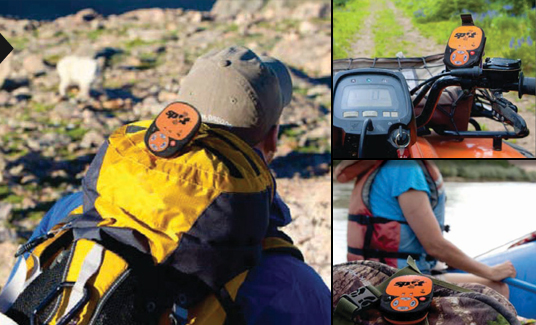 Home > TERMINALS > Spot
Spot
When your adventures take you beyond cell service, SPOT Gen3 lets family and friends know you are ok or sends emergency respoders your GPS location, all at the push of a button.
Add this rugged, pocket-sized device to your essential gear and stay connected wherever you roam.

SPOT Gen3's customized tracking features takes your SPOT experience to the next level.
Only with SPOT Gen3, is tracking motion-activated regardless of the level of tracking you choose (Basic, Unlimited or Extreme). A vibration sensor tells your SPOT to send track updates when you are moving and to stop when you do(This is a great new battery-saving feature).



• Improved Performance
• Extreme Tracking
• Motion Activated
• Longer Battery Life
• Unlimited Tracking
• USB Power Input
Functions

SOS

With the push of a button, GEOS International Emergency Response Coordination Center provides your GPS coordinates and information to local response teams - for example contacting 9-1-1 responders in North America and 1-1-2 responders in Europe The S.O.S. button is for emergencies only.

Help

Alert your personal contacts that you need help in non-life-threatening situations

Check-in

Let family and friends know you're ok when you're out of cell phone range. Send a pre-programmed text message with GPS coordinates or an email with a link to Google Maps™ to your contacts with your location. With a push of a button, a message is sent via email or SMS to up to 10 pre-determined contacts and your waypoint is stored in your SPOT account for later reference. Your stored waypoints can be easily integrated into a SPOT Shared Page or SPOT Adventure account.

Custom Message

Stay in touch while off the grid by sending your custom message. Set up a message before leaving to send to contacts with your GPS location. Use this feature as a secondary OK message.

Tracking

Allow friends and family to follow your progress online in near real-time and save waypoints so you can review your entire route at a later date.

Unlimited Tracking [New Tracking Options]

Set it and forget it. Pre-set your SPOT Gen3 to send tracks at the speed of your adventures. Change your tracks to send every 5, 10, 30, or 60 minutes. SPOT Gen3 will send tracks at your chosen rate for as long as your device is turned on and moving (no need to re-set after 24 hours). Tracking doesn't stop until you do.

Extreme Tracking [New Tracking Options]

Get all of the great features of Unlimited Tracking, but with the added ability to vary your track rate down to every 2 ½ minutes. Don't miss a step with increased track rates!
How it works
1

GPS satellites provide signals.

2

SPOT messenger's onboard GPS chip determines your GPS location and sends your location and preselected message to communication satellites.

3

Communication satellites relay your message to specific satellite antennas around the world.

4

Satellite antennas and a global network route your location and message to the appropriate network.

5

Your location and messages are delivered according to your instructions via email, text message, or emergency notification to the GEOS Rescue Coordination Center.
Operating Specifications
Dimensions
3.43" (8.72 cm) H x 3.43" (8.72 cm) W x 1" (2.54 cm) D
Weight
4.0 oz (114g) with Lithium batteries
Operating Temp
-30C to 60C (-22F to 140F)
Operating Altitude
-100m to +6,500m (-328ft to +21,320ft)
Humidity Rated
MIL-STD-810F, Method 507.3, 95% to 100% cond.
Vibration Rated
Per SAE J1455
BATTERY OPTION
4 AAA Energizer® Ultimate Lithium 8x Batteries (L92)
4 AAA Energizer® NIMH reusable batteries (NH12)
Line power with a 5v USB connection (SPOT Gen3 is not waterproof when line powered)
Battery Performance
To obtain reliable performance use only AAA Energizer Ultimate Lithium 8x batteries (L91). For optimal performance, please try and utilize SPOT GEN3 in locations with a clear view of the sky with the logo side up.
Tracking Based on 24 Hours a Day

| Intervals | 100% Clear View of the Sky | 50% Clear View of the Sky |
| --- | --- | --- |
| 60 Minutes | ~ 52 days | ~ 26 days |
| 30 Minutes | ~ 26 days | ~ 13 days |
| 10 Minutes | ~ 17 days | ~ 8.5 days |
| 5 Minutes | ~ 9 days | ~ 4.5 days |
| 2.5 Minutes | ~ 7 days | ~ 3.5 days |